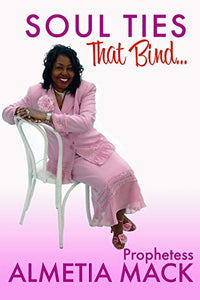 Leeds Press Corp
Soul Ties That Bind
Regular price
$14.98
$0.00
Unit price
per
Soul; The moral and emotional nature of human beings; the quality that arouses emotions and sentiment, a strong feeling. Tie, a moral or legal obligation to someone or something typically constituting a restoring power influence or duty to fasten, attach or close by means of a tie. To restrain from independence or freedom of action or choice.
God sent His Son Jesus Christ to die to make us free and when we accept Him that is exactly what we become…FREE; "therefore if any man be in Christ he is a new creature old things are past away; behold all things are become new." 2nd Cor. 5:17. Satan brings the past back to your mind because your mind is his battleground and he knows that if he can keep you in the past you will stay bound and never enjoy your present or future, he also knows that where your mind is your body will follow. Many people have Soul Ties That Bind, whether you were an alcoholic, drug user or dealer, homosexual, rapist or raped, physically, or mentally abused, divorced, prostitute, dealt in pornography and the list goes on. Once you give your heart to God, you are made free from those bondages, but Satan comes to bring those thoughts and feelings back to your mind making you think that you are still in the past. This book will expose Satan and let you know that the Soul Ties that has been Binding you have been Loosed and you have been made FREE…Now you can walk away and never be entangled again with that yoke of bondage because you now know about the soul ties that bind.

THE AUTHOR
Prophetess Almetia Mack is the wife of Pastor Bobby Mack and First Lady of Seed Planting Christian Church located at 1303 E. Bessemer Avenue in Greensboro, NC., together they have 6 children. Prophetess Mack is a graduate of Hosanna Bible College where she received her Bachelors of Theology. She is the author of two books entitled, "What Do You Do, Once God Delivers You? And Soul Ties That Bind." God blessed her with the B.B.B.T.M. Ministry (Beaten, Battered & Broken to Mended Ministries) where she ministers to women and men that are/or has been abused. Prophetess Mack was blessed to share her testimony on the 700 club twice, she also teaches classes on Spiritual Warfare and fulfills her mission by carrying the Gospel to the Body of Christ.
---
Share this Product
---