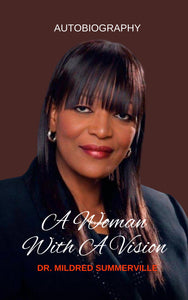 Leeds Press Corp
A Woman with A Vision
Regular price
$19.95
$0.00
Unit price
per
Dr. Mildred Summerville, hailing from the vibrant city of Wilson, North Carolina, emerges as a true creative force, garnering well-deserved acclaim throughout her remarkable journey. She began her formal education at Fayetteville State University, earning a Bachelor of Science degree in 1975, followed by a Master of Education degree from Bowling Green State University in 1982. In 1985, she obtained her Principal's Certificate in Educational Administration from East Carolina University. Driven by her faith, she later received a Doctorate of Humane Letters from the Interdenominational Bible Institute in 2011 and an Honorary Doctorate in Humanitarianism from Global International Alliance Stanford University, UK, in 2019. She is presently serving as the International Chaplain and Matriarch for GIA, North Carolina Division.
Throughout her career, Dr. Summerville has held various roles, including coach, athletic director, lead teacher and curriculum specialist, accreditation visiting committee member, assistant principal, principal, playwright, author, and entrepreneur. She is deeply committed to her community and the development of future leaders, actively participating in professional and civic organizations, including Delta Sigma Theta Sorority Incorporated.
In honor of her parents, James and Leanther Summerville, Dr. Summerville founded the James and Leanther Summerville Academy. This community-based alternative school provides suspended students with an opportunity to continue their education. She considers her five most significant accomplishments as an administrator to be receiving the President's Lifetime Achievement Award during President Barack Obama's administration, being recognized as one of the contributing authors of the book "Mr. President," establishing the community-based nonprofit organization Tall One Outreach Ministries, founding an alternative school in memory of her parents, and writing and producing a gospel play. Dr. Shirley Caesar, the renowned Gospel singer, affectionately refers to Summerville as the "Tall One," a nickname given to her due to her impressive height of six feet. Dr. Summerville's acclaimed gospel play, "Spare the Rod, Spoil the Child," is available for purchase on amazon.com. The play has garnered significant recognition and numerous awards, including the prestigious Playwright & Gospel Stage Play of The Year Award. Dr. Summerville's production has captivated audiences and received rave reviews at various venues throughout the United States. The play features a stellar cast of renowned gospel performers, including Melvin Williams, Evelyn Turrentine-Agee, Pastor Shirley Caesar, Sister Cantaloupe Dr. Summerville's outstanding accomplishments have garnered more than 30 accolades over the course of her career. As a result of these recognitions, she was bestowed with the prestigious Honoree of the Year Distinguished Career Achievement Award from Church Stars Network in 2019 and was a featured cover story for its publication. Additionally, she has been repeatedly featured in the National Directory of Who's Who in Executives and Professionals, while her dedication to community service has earned her the esteemed title of Hometown Hero for Wilson, North Carolina. Furthermore, her contributions to education, playwriting, and spiritual entertainment have been duly acknowledged through various awards. Notably, in 2021, she was bestowed with the esteemed President Biden Lifetime Achievement Award. Dr. Mildred Summerville continues to make a profound impact on her community by nurturing young minds through education, enrichment, spiritual guidance, and mentorship. Her dedication and passion serve as an inspiration to others, leaving a lasting legacy of empowerment and service.
---
Share this Product
---