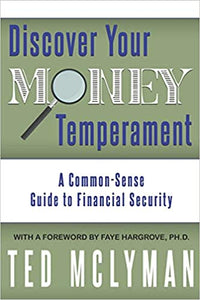 Leeds Press Corp
Discover Your Money Temperament: A Common-Sense Guide to Financial Security
Regular price
$14.98
$0.00
Unit price
per
Apexx Behavioral Solutions founder, Ted McLyman, presents a compelling story about how behavior drives money decisions and that the common wisdom about personal finance is wrong. Building on over thirty years of experience as a leader, educator, financial advisor and business owner, McLyman offers a refreshing new approach to money management. Discover Your Money Temperament, A Common-Sense Guide to Financial Security draws on his vast understanding of behavioral finance to explore why we continually make bad money choices. Using self-deprecating humor and stories, McLyman offers a light and entertaining account of how our human nature conspires against us when we make money choices.
This is a revolutionary consumer book about how we feel and think about money and how our emotions impact our spending decisions. Money success is about behavior and not product selection. This versatile book targets the general public but is suited as a supplement to traditional personal finance books and courses. It also is a great give away for financial professionals.
The theme is simple and straightforward. Humans are not wired to work well with money. The behaviors that kept us alive in the forest can kill us at the mall. Key points include:- Money decisions are always emotional.- Everyone has a unique money temperament.- Money strategies should match our money temperament.- The old financial industry is all about products--features and benefits.- The new financial industry is all about behavior--temperament and strategy.- Know your money temperament and manage your behavior to create wealth.
---
Share this Product
---