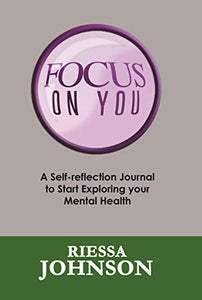 Leeds Press Corp
FOCUS on YOU: A self-reflection journal to start exploring your mental health
Regular price
$14.98
$0.00
Unit price
per
A self-reflection journal to start exploring your mental health.
Journaling is therapeutic within itself. Often time we have a lot of thoughts in our heads that for many reasons we don't verbally say. But this does not mean those thoughts do not need to get out. That is what originally got me into journaling. I felt more comfortable writing my thoughts down on paper than I did verbalizing them. Sometimes it was just a few words that I needed to say while other times there was literally pages and pages I needed to write. Journaling is personal. Journaling helped me express my personal thoughts and helped me realize that it was okay to talk. Even if I was not talking to a physical person, me writing down my thoughts was me talking. It helped me lift heavy weights off my shoulders because instead of holding everything in I began to let things out. Once I became comfortable with talking to myself, I than became comfortable with seeking therapy and talking to others about my feelings. In this journal I will include a mixture of mental health tips, positive affirmations, and quotes all related to mental health. This journal is meant to be used as an outlet. You can write about anything: Your thoughts, feelings, emotions, relationships, family, literally anything. This can be done in whatever form you would like (bullet points or sentences). The goal is to just start writing and get things on paper for you to look at. From doing this you will realize how therapeutic journaling is and just like that you are on the road of your mental health journey!
About The Author
Riessa Johnson was born and raised on the East Side of Buffalo, NY. She initially received two degrees in the field of Criminal Justice, but in 2013 Riessa decided to return to school and pursue the field of Clinical Mental Health. Now that she has accomplished that goal, she's actively working in her African American community as an advocate for mental health by bringing knowledge and education in the hope of addressing and breaking down the negative stigma surrounding it. She has worked in different human services fields, but nothing brings Riessa more joy and satisfaction than the field of mental health.
---
Share this Product
---