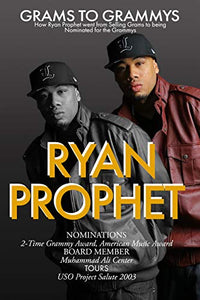 Leeds Press Corp
GRAMS TO GRAMMYS: How Ryan Prophet went from Selling Grams to being Nominated for the Grammys
Regular price
$15.95
$0.00
Unit price
per
Stripped down to my boxers and undershirt, like a carcass… I laid barefoot face down on the side of the highway. Like a slave my hands were tied behind my back in handcuffs. Blood gushed from my head, my face and knees were scrapped of skin by the tussle I gave to save my last breath. I slowly lost consciousness…
Ryan Prophet is a Multi Award-Winning recording Hip-Hop Artist, he takes us into the soul of a legend. In this book; from Grams to Grammys, Prophet, narrates as only he can, the plight of black male in diaspora. The experiences of social injustice, substance abuse and mental health issues that affect minorities and those trapped in abject poverty; Prophet has a message of hope. Having risen to the top of his game, determined never to fail, give up or give in, he holds nothing back. He unveils the blueprint on how to navigate the streets of Urban America to Hollywood, how to dine with the crew in the Projects to hanging out with the Elite and Power Brokers. This book gives us Hope; the name his mother gave him, Ryan Hope; that we all have this Hope; we are born with a purpose. There are no guarantees that life will be easy; Success is not for the faint of heart. From Grams to Grammys is a journey of struggles, challenges and most importantly hope.
Ryan Prophet is an American rapper born in Oakland, California. Formerly a member of the rap group Nappy Roots. Their hit Album nominations and Awards; R&B Hip-Hop charts, Billboard 200 Charts. Nominated for MTV Music Video Awards, American Music Awards, Soul Train Awards and Grammy Awards. Ryan is a Board Member of Muhammad Ali Center.
---
Share this Product
---