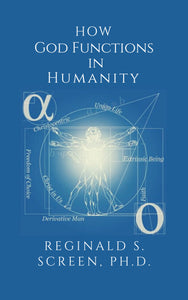 Leeds Press Corp
How God Functions in Humanity
Regular price
$14.95
$0.00
Unit price
per
About The Author
Reginald S. Screen, Ph.D., is a distinguished Air Force Veteran, revered for his dedicated service to his country. Beyond his military background, he has forged a remarkable path of leadership and impact across various sectors. With a wealth of experience and expertise, Dr. Screen has earned a prominent reputation as a multifaceted professional.
Currently serving as the Assistant District Superintendent for the Alliance South District of the Christian & Missionary Alliance (C&MA), Dr. Screen plays a pivotal role in guiding and enhancing the spiritual journey of the community. In addition to his district responsibilities, he wears multiple hats in the business world.
As the Operations and Business Manager for Dawson's Management, Dr. Screen showcases his proficiency in managing intricate operational landscapes. Simultaneously, he stands at the helm of the 360 Coaching, Consulting, and Training Group, LLC, where his visionary leadership drives innovative solutions and transformative strategies.
Dr. Screen's dedication to societal betterment extends further through his role as the President and CEO of the 3L Cultural Intelligence Group, Inc. This esteemed nonprofit organization is committed to advancing civil rights and fostering cultural intelligence in an ever-evolving world.
Educationally, Dr. Screen's academic journey is as diverse as his professional endeavors. He holds distinguished degrees in Accounting, Biblical Studies, Organizational Development, Christian Leadership, and Apologetics and Theology. This rich educational background fuels his comprehensive understanding of multifaceted challenges and opportunities.
Residing in the vibrant landscape of Metro Atlanta, Dr. Screen is deeply connected to his community and the people he serves. His tireless efforts and unwavering commitment have shaped him into a transformative leader, inspiring those around him.
Dr. Screen's spiritual influence extends beyond his professional roles. He holds dual ordination with the National Baptist and the Christian and Missionary Alliance, a testament to his profound spiritual connection and commitment. Having served as a lead pastor for over 25 years, he possesses a unique blend of pastoral wisdom and organizational acumen.
Through his military service, spiritual leadership, and dynamic roles across various sectors, Dr. Reginald S. Screen has left an indelible mark on the lives he touches and the organizations he guides. His legacy is one of unwavering dedication, remarkable versatility, and a relentless pursuit of excellence.
---
Share this Product
---