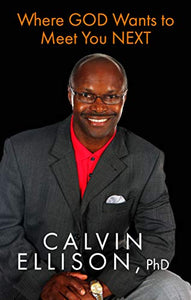 Leeds Press Corp
Where God Wants to Meet you Next
Regular price
$12.98
$0.00
Unit price
per
Dr Calvin Ellison is an Author, Entrepreneur, Naturopathic Doctor, Certified Nutritional Consultant, Global Wellness Trailblazer and Marriage and Men's Advisor. He is the Author and Founder of the Men Magnifying Manhood movement. Having held various positions of leadership, Dr. Ellison is well equipped to discuss the subject matter of Where God wants to Meet you Next. In a world where Christian believers are torn and divided along political-social and economical divides, this book recenters and normalizes lives from a Christ and Godly perspectives. All material gains, fame, and accolades can never replace or repair a hurting soul. Families are torn between expediency to survive versus thriving in Faith and Unity. Politicians have waged ideological wars along political lines while the poor's cry goes unheard. Who is going to stand for the weak amongst us?
In this book Dr. Ellison lays down the framework to recovery. To move forward, we must know where God wants us to be positioned. Its one thing to know of God, its another to know Him. The journey starts in the Garden of Eden and flows through the Old Covenant, and finally established in the New Covenant through Jesus Christ. God has given us all things richly to enjoy. But we Must know what those things are, and we Must be where He wants to be to receive those things.
Dr. Ellison writes in details how to know Where God Wants to Meet you Next. Having worked as a Pastor for over 20 years, he knows and feels the pain of the flock. And like a Shepherd he desires to lead you to those pastures in the scriptures using the Word of Knowledge and Wisdom. A Must read for those who are seeking to reset and start over in victory. Dr. and Mrs. Ellison have presented to thousands of married couples and singles nationally and internationally, through Seminars, Banquets, TV, and Radio. They have been married for 38 years. He is the author of ten books and co-author of five national publications.
---
Share this Product
---